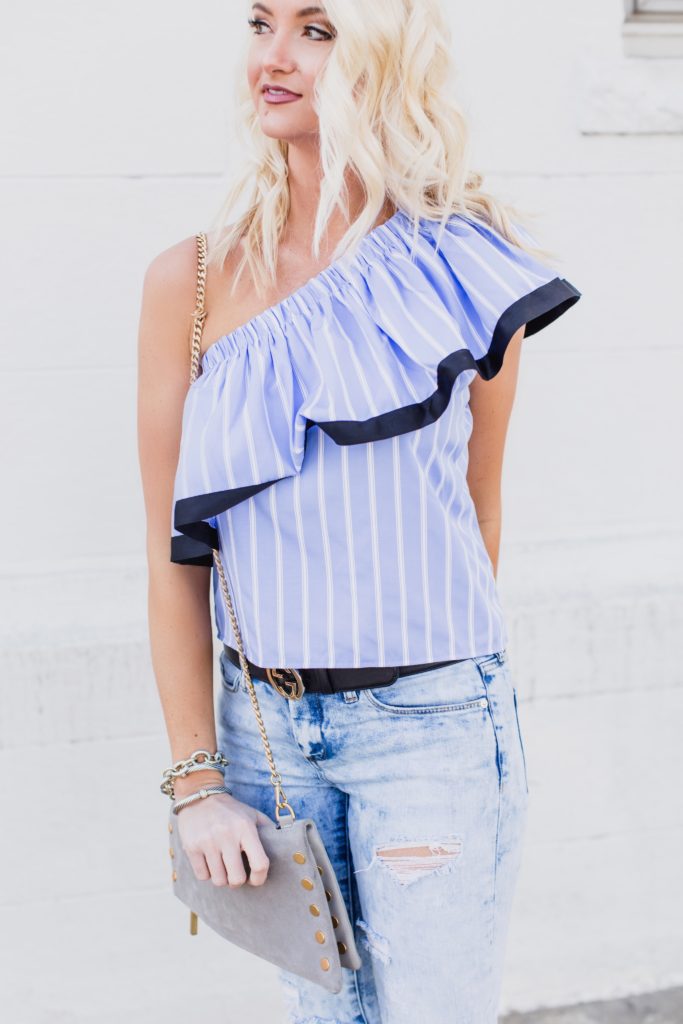 One Shoulder Stripe Top / Blank NYC Happy Tears Denim / Steve Madden 'Carrson' Heel
Blue Ruffle Sleeve Top / Fringe Crop Pant / Hammitt Matt Crossbody
HAPPY MONDAY ya'll! Today has been one of those days I have been "getting my life in order!" Today is a HUGE DAY for liketoknow.it, which as many of you know, is how you all shop my looks on Instagram! If you are unfamiliar with this, all you have to do is sign up FOR FREE here and all of my outfit details form my Instagram posts with come directly to your email by "liking" my Instagram pictures (it's so easy and there are no unnecessary emails sent out!)  Today, liketoknow.it is making it even easier to shop my looks by downloading the liketoknow.it app in your app store you can now screenshot ANY of my liketoknow.it enabled photos on my Instagram and within seconds have the outfit details sent to you through the app (talk about easy and convenient shopping)!  If any of this sounds hard, just head over to the app store, download the liketoknow.it app and there are EASY STEP BY STEP instructions and a tutorial on how to use this amazing service! I am SOOO excited about this feature and hopefully it will be much easier for you all as well!
Ok, now on to today's post!  This past week I was in NYC working a trade show and then Friday and Saturday I hosted a trunk show with my sister, Anna Cate Collection, to show off her amazing Spring clothing line! I wanted to say a quick, "Thank You," to all of you who came out, ya'll truly make what I do so much fun and possible and I thank you so much! Today I wanted to share two tops under $20 that are great transitional pieces and that have been restocked because they were have been sold out! I have been wearing a ton of blue and white recently because its a transitional tone into the warmer temps! This first one shoulder top is a steal at $14!  I was floored when I realized how much it was because it is the perfect dupe for this $295 Milly top that I have had my eye on for WEEKS! I am so glad I never purchased the $300 top because this one is PERFECT and gives the same look at a fraction of the price! My jeans with this look are the BLANKNYC distressed jeans I have on in practically every Instagram post bahahahah (sorry, not sorry) and they are Under $100! I paired this look with a heel that has been my go-to, the Steve Madden Carrson heel, Under $100! I am headed to Charleston, SC for Charleston Fashion Week next week and this look is going in my bag!!
The second outfit is a blue ruffle sleeve blouse that stole my heart the minute I saw it! This top is the perfect shade of blue and the sleeves are a true show-stopper! I tried to showcase this through my photos, but they didn't even do it justice on how amazing they are! This top is Under $20 and is a MUST HAVE for Spring! I paired it with my 3×1 denim fringe crop black pant, but will definitely be pairing it with my white jeans when it warms up a bit!
My handbag is my newest obsession by HAMMITT! I have received countless compliments on this 'Matt' bag because of the matte gold hardware and the bag shape! This purse is so perfect for Spring and is big enough to hold a wallet (which I love!) Hammitt bags are highly crafted and their details make the bags a must have!
I hope you all enjoyed both of these blue looks that can also transition well into the coming warmer days! I have also updated my Resort 2017 Tab on the blog with some items that are catching my attention right now so check it out! I hope you all had a fantastic Monday and don't forget to download the new Liketoknow.it app for easy and convenient shopping!
Shop the Blues: