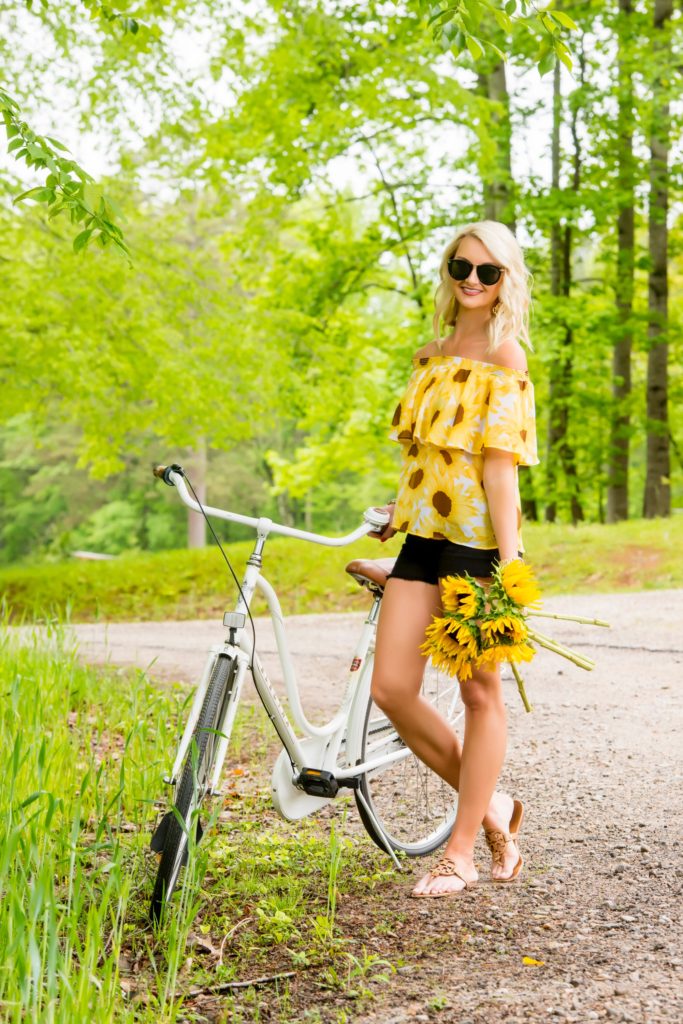 Black Cutoff Shorts / Riri Romper / Rascal Romper  / Katy Halter Dress / Bungalow Off the Shoulder Top / JORD Wood Watch Rose Gold
May is HERE and that hopefully means a little more sunshine and flowers!  May is one of my favorite times of year because the days are longer, the pollen has died down and it's officially beach and lake time!  When I saw this sunny sunflower top I immediately had to get it! It is so fun and easy to throw on with shorts, pants, capri's, ANYTHING!! As Meryl Streep said in The Devil Wears Prada 'Flowers for Spring.. Groundbreaking," but I think this top just might be! It can be worn two ways either off the shoulder or as a tube top.  I love the versatility because in the summer there are times when you are outside all day and don't want a tan line, but then at night the off the shoulder look just seems a little more flirty and fun!  This top has been selling out in this print, but I have linked the same top in various prints here  and here.  The sunflower top also comes in various styles and I love them all so I wanted to link the Selena Tank Top, Tanya Tie Top, Katy Halter Dress, Rascal Romper, Riri Romper (NEED THIS) and the Sawyer Shorts (cute with the tie top).  I paired my top with my newest and most favorite 7 for all mankind cutouff black shorts.  These shorts are so wonderful and fit like a glove! I love the frayed hemline and these will be on repeat this summer for sure!  I paired my look with everyone's favorite Tory Burch Miller Sandal .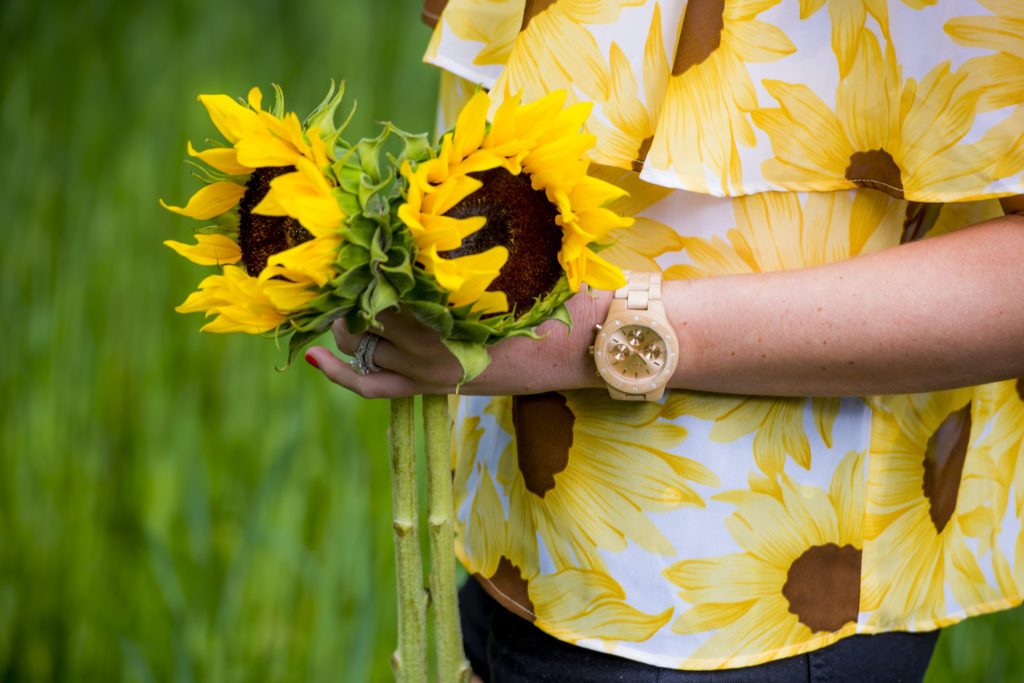 Now on to my FAVORITE watch for the summer this Wood Watch by Jord! I have been eyeing this watch for some time now and finally have the chance to call it mine.  This particular watch is made of beautiful maple and I thought it was so perfect for summer.  The dial is rose gold which casts the slightest hint of pink and is trending this spring and summer.  Each Jord Watch comes in a beautifully crafted wooden box to match.  The detail and craftsmanship that each timepiece shows is so incredible.  I have linked my exact watch here. I wanted to also link you directly to the website to all of the watches here! Mother's Day is Sunday, but May is a great time to be thinking about Father's Day Gifts, Graduation presents and BIRTHDAYS!!  This watch would make the perfect graduation present and they make watches for both men and women.
I have a $20 Off Code available only to my snapchat followers and my username is: hollyboyd09 so head on over for that discount!
I hope you all enjoyed this sunny Friday look and you will have a great and relaxing weekend! My husband and I are headed to Charlottesville, VA this weekend to see Dave Matthews Band in his hometown on his LAST year touring! To say that my husband is a major fan is an understatement and the fact that this is his last year touring is so sad, but we have plenty tickets this year 🙂  Let me know if you end up buying the watch! I want to know what you all think! XOXO
Shop The Post: