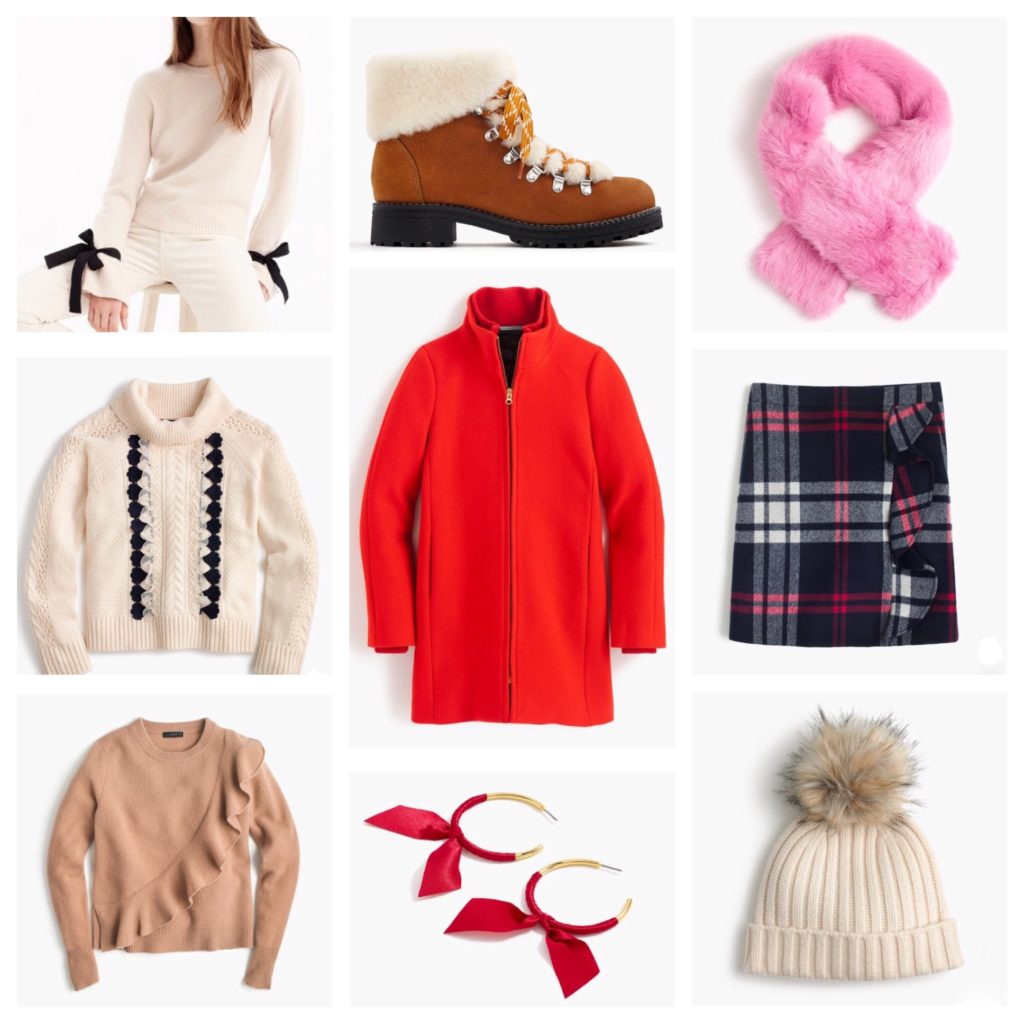 Happy Hump Day ya'll!! Today I wanted to let you all know about this incredible J Crew Sale going on NOW! The sale is 25% off almost EVERYTHING with Code: GETSHOPPING! This sale comes just in time to help you get 'Turkey Day' or 'Hollyday' ready or grab a few presents for those special people in your lives!  I fell 'victim' to the SALE because I am planning my Christmas content and there were some items I just HAD TO HAVE 😉
Here's what I purchased:
Colorful Floral Hoops (these are GORGEOUS!!! They come in 3 colors and I had to have them! I got them in the 'Dark Ink' colors, but I also want them in the crystal!)
Pink Faux Fur Shearling Scarf – This scarf is OMG!! !It's Under $60 and with the 25% off such a steal! I loved the pink color sooo much so that was a no brainer purchase because it looks soooo LUXE!
Textured Teddy Bear Coat – I mean CAN you have too many teddy coats?!?! This coat just looked sooo cozy! I can't wait for it to come in! I am a HUGE fan of a good teddy coat so I can't wait to share this one with you all… Unfortunately, this piece was excluded from this sale, but since I was filling the cart I went ahead and purchased it! It's selling FAST so GRAB it QUICK!
Nightshirt in Black Watch Flannel – This 'night shirt/dress' just looked so cozy! I could envision sitting by my Christmas tree of fire with a cup of hot cocoa in this look and watching Hallmark Channel! I loved the color of this print too!
So that's what I grabbed, but it is also the PRIME time to grab some of those high priced items ON 25% with Code: GETSHOPPING.  A few items worth considering are the BEST SELLING Cocoon Coat where you will save quite a bit with the promo.  I also wanted these Nordic Boots sooooo bad! I loved the color so much and I still may have to grab them before the SALE ENDS!
Below is an entire boutique of my favorites! There are truly some GREAT pieces! All you have to do is click on the item and it will take you right to purchase! Let me know what you all get!
Shop the Sale: