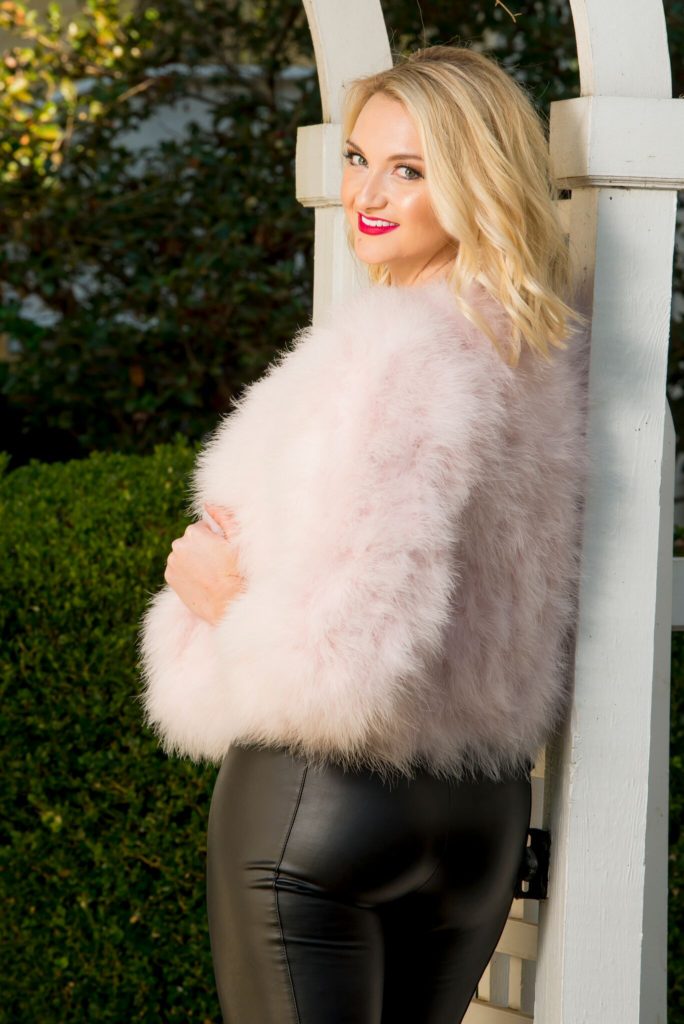 Valentine's Day outfits should be sweet and soft, just like this amazing Yumi Kim "Away We Go" Feather Jacket.  Blush and fluffy jackets have been everywhere this Winter and will continue to be a huge trend on into the Spring.  This jacket Sold Out on Revolve Clothing in almost every size and it's because it's the perfect jacket to throw on any outfit from a dress to a simple tee and heels!
Contest Alert: If you have anything or have worn anything Yumi Kim this year, she is running a contest on Instagram where you can win $500 and a chance to be featured on her Instagram.  The contest ends 2/1/16 and will be announced on Instagram.  All you have to do is follow @yumikim, post you in your Yumi Kim outfit styled and #ykmyway.  Good luck!
I paired my feather jacket with a simple black camisole and my favorite Lysse Faux Leather Leggings to create a longer leaner look that really accentuates the beauty of the jacket. I have found that pairing sold neutrals with a statement piece really pair well. These leggings have been my go-to since November and I literally throw them on with anything!  They really look like leather and they also have the seams down the front and back which add another bit of detail, making them look super expensive.  This may seem silly, but every time I wear them I honestly feel like, "Catwoman," but in all the right ways (if there can be right ways hahaha.) I have one more Valentines look that I am super excited to share with you all and it will be coming to the blog next week!
Thank you all so much for stopping by and Happy Hump Day!
Yumi Kim Away We Go Feather Jacket / Lysse Faux Leather Leggings