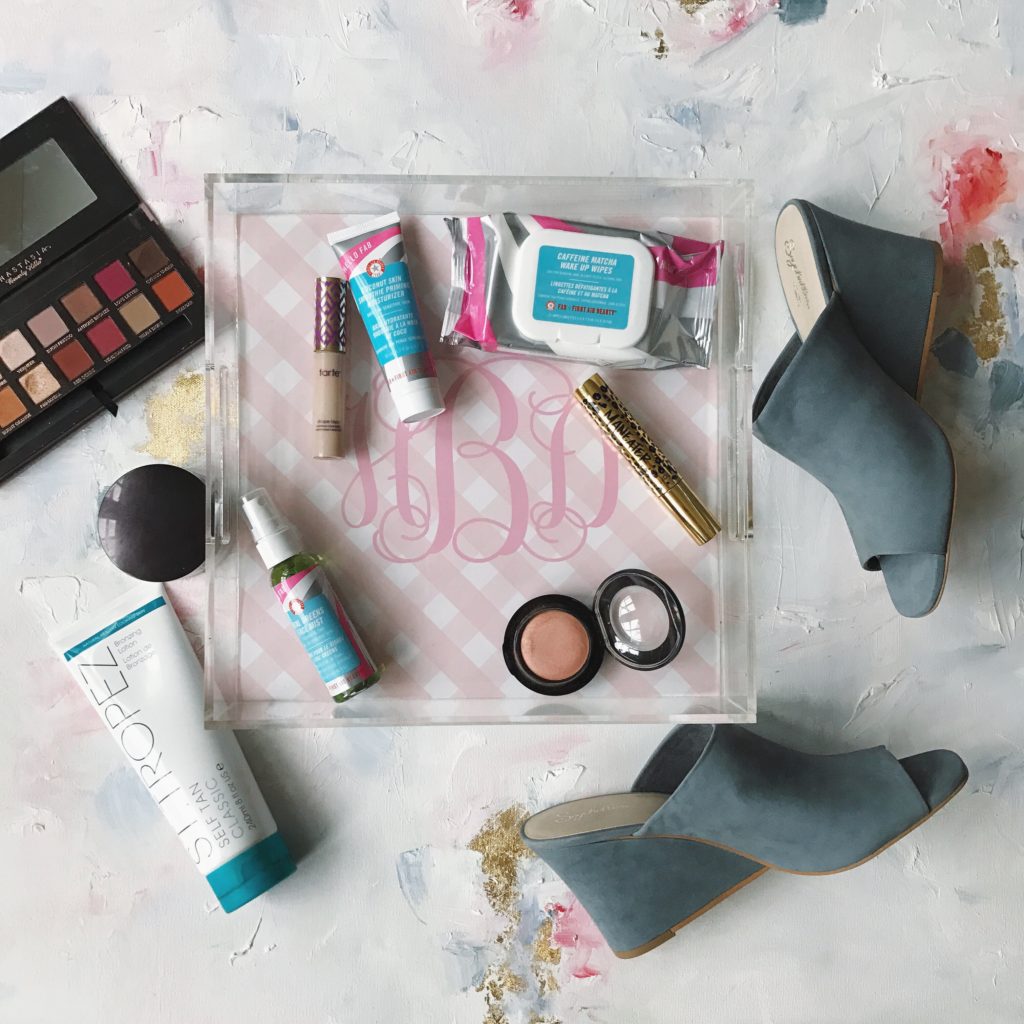 Southern Hospitality Acrylic Tray (customizable colors) / Modern Renaissance Palette / MAC Warm Soul Blush
St. Tropez Self Tanner Lotion / St. Tropez Mitt /  Tarte Shape Tape Concealer / Vital Greens Mist / Coconut Skin Smoothie Primer 
Seychelles Affirmation Wedge (similar) / Tarte Maneater Mascara / Laura Mercier Translucent Powder
Caffeine Matcha Wake Up Remover Wipes / MAC Lipstick 'Faux'
Happy Thursday everyone! Today I wanted to share some of my latest and greatest beauty obsessions! I have been sharing some of these products on Snapchat and Instastory, but I have yet to review them for you all! So today will just be a few products that I am loving/using on a daily basis and, in my opinion, worth the splurge!
The first set of products is by one of my favorite new brands First Aid Beauty! First Aid beauty is a line that is all about your skin and the ingredients used in the products! I originally stumbled upon this brand in Sephora on one of my "quick" trips and noticed this primer as I was checking out!
The Vital Greens Mist is a wonderful spray for the skin! This spray is formulated with ingredients like spinach and kale (don't worry it doesn't smell) and then calming ingredients to keep your face guarded from all the environmental stressors we come in contact with daily! This spray is great as an after makeup primer!
The Coconut Skin Smoothie Priming moisturizer is such an ingredient rich pre-makeup primer! I have dry skin and this primer helps keep my skin hydrated and supple without making my makeup look "cakey!"  I love the calming ingredients in this product and it makes my skin look extra dewy (which I think looks fresh!)
The Caffeine Matcha Makeup Remover Wipes are THE BOMB!!! These little wipes truly give your face that refreshing feeling in the morning and you don't have to wash it off! These wipes remove any makeup leftover or for me are just a morning refresher! I am SUPER funny about making sure ALL of my makeup is off at night so I will use these, but I do wash my face (not necessary) but I do! However, in the morning when I have no makeup on anyway I run this across my face to "Wake Up" and don't have to wash it!
Tarte recently came out with a concealer that I contemplated purchasing and then after so many people suggested I finally got it… SHAPE TAPE!! THIS CONCEALER IS A MUST HAVE! If you purchase 1 item from today's blog post, let this be IT!!!!! This concealer is beyond amazing! I purchased it in the "light" shade because I use it under my eyes to brighten BEFORE & AFTER foundation! Yes, I use it twice daily! The consistency is thicker, but smooth! I have never found one so full coverage that was also 'buildable' and DOES NOT CREASE! I set my under eye concealer with my Laura Mercier Translucent Powder and they are so much brighter and bolder!
Tarte also just released a new mascara… MANEATER! I'm not gonna lie, I wear false lashes WAY too often! I was noticing that I was wearing them 4 times a week practically and I decided this was too much and needed to get back to the basics! The eyes are the most sensitive skin on the face and I was nervous I was doing damage I couldn't reverse long term buy putting glue on my eye lids that often! With that said, I went on a search for a mascara that would help me feel like I had falsies on and I stumbled on the MANEATER mascara! I AM OBSESSED!!!! I put probably 10 coats on each eye and this mascara instantly opens and separates my lashes! Everyone's lashes are different, but for me this mascara really does elongate and separate (so hard to find in one formula)!  The Maneater and the Shape Tape are both only sold at Ulta so grab them quickly before they are SOLD OUT!Read More